Top 5 Checklist for Evaluating Fire System Monitoring Centers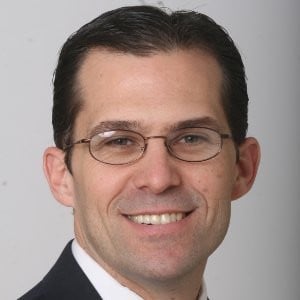 Daniel Torpey is Senior Systems Consultant at DGA Security and oversees all commercial fire system installations at DGA. He also currently serves as a member of the NYC Department of Buildings' Fire Protection Systems Technical Committee, which assists with drafting revisions to the New York City Construction Codes. Dan's previous industry experience includes serving on the test development committee with NICET (National Institute for Certification in Engineering Technologies) and serving as a member of the FDNY Certificate of Fitness Committee.
All commercial fire alarm systems are required to be monitored 24/7 by an outside monitoring center that is equipped to respond to and handle fire alarm events. But what should you look for when selecting a monitoring center (also referred to as a "Central Station") for your fire system? This article explains the important role that monitoring centers play and provides a primer on how to select a qualified monitoring center.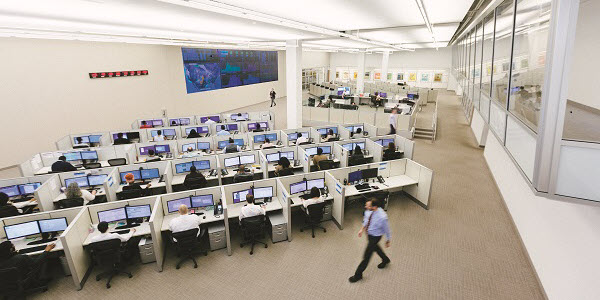 What is the Role of Fire System Monitoring Centers?
Monitoring centers are staffed by highly trained, certified agents who notify the appropriate local fire department when an alarm signal is received from monitored fire alarm systems. Monitoring centers also receive supervisory and trouble signals as well as check for active communication connection to the monitored fire alarm systems. When a fire alarm system transmits a supervisory or trouble signal, or the communication connection to the fire alarm system is interrupted, the monitoring agents notify the authorized customer contacts until the issue is resolved and the fire alarm system has been restored to the normal condition.
What to Look for When Evaluating Fire System Monitoring Centers: A Fire System Monitoring Center Should...
1. Be approved by the AHJ (Authority Having Jurisdiction).
Fire system monitoring centers must be approved the AHJ, generally a local fire commissioner. For example, in New York City, all commercial fire alarm systems must be monitored by a monitoring center that has been approved by the Fire Department of New York (FDNY). All monitoring agents must go through rigorous training, pass an FDNY-issued test and hold a valid certificate issued by the FDNY. Approval by the FDNY is a major source of pride for monitoring centers because it is one of the most difficult-to-achieve certifications in the monitoring industry.
2. Have UL 827 and TMA Five Diamond Certifications.
Look for industry certifications including UL 827, the Standard for Central-Station Alarm Services, and The Monitoring Association's (TMA) Five Diamond Certification. The UL 827 certification, which is issued by Underwriters Laboratories, is the standard that governs the minimum requirements for monitoring equipment, system redundancy and staffing levels to respond to alarm events and alarm handling. The TMA Five Diamond certification designates monitoring centers that not only excel in facilities and redundancy, but also in operating procedures, agent training and management.
3. Offer multiple independent signal transmission paths.
Traditionally fire alarm control panels used POTS (Plain Old Telephones Service) lines as the primary connection to send and receive signals between the monitored fire system and the monitoring center. However, as telecommunication carriers deprecate POTS service in favor of newer VoIP (Voice over Internet Protocol) service, fire system monitoring centers have to support multiple signal transmission paths including IP (internet) and cellular. We wrote a very detailed article on this very topic last year: Read more about how transitioning from POTS to VoIP impacts your fire alarm system.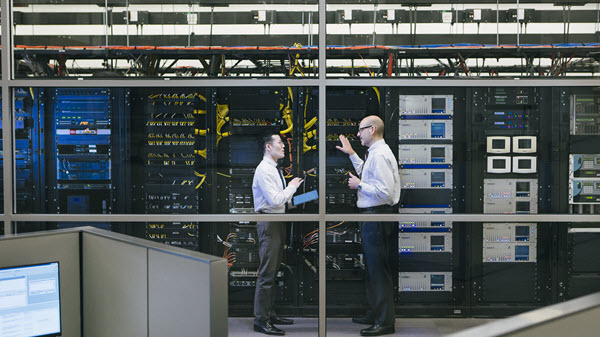 4. Have "hot" redundancy.
When a monitoring center says it has "redundant" systems, it means they have a duplication of critical systems such that if any component of the monitoring infrastructure fails, they have a backup in place. But it doesn't specify how quickly that backup - be it a server, alarm receiver or internet service provider - will be up and running. That's where cold, warm or hot redundancy come in.
"Cold" redundancy is the least resilient setup and "hot" redundancy is the most resilient setup. Think of "cold" redundancy as having a backup server that is not plugged in or connected to the network. Think of "warm" redundancy as having a backup server connected to the network but the staff still has to manually switch over from the failed server to the backup server by re-configuring the network system. Going with the same example, think of "hot" redundancy as having a backup server that automatically takes over when the existing server fails.
Look for monitoring centers that have "hot" redundancy to ensure seamless monitoring continuity with minimal to no downtime if an unexpected weather event or system malfunction causes a service disruption.
5. Have a secondary "hot" load sharing facility located in a different geographic region.
A monitoring service provider that has a secondary facility located in a different geographic area with a "hot" load-sharing setup will offer increased resiliency against a natural or man-made disaster that impacts a whole geographic region. Having geographically diverse monitoring centers ensures that if there is a major disruption in one region, the second location can pick up the monitoring service with minimal to no downtime.
Looking for a Reliable, Experienced Fire System Monitoring Provider in the NYC Area?
DGA is New York's leading partner for commercial fire alarm systems. Entrusted by thousands of businesses since 1969, we provide fire system design, installation, monitoring, and testing and inspection service for businesses in the greater NYC area including New Jersey and Long Island.
Unlike many fire system providers that outsource the monitoring of their customers to a third-party, DGA owns our national network of "hot" redundant, load sharing monitoring centers. We are also one of the select few approved by the FDNY to monitor fire alarm systems in New York City. DGA's NICET certified experts can help you navigate the complex fire alarm requirements for your business whether it's a code violation, a new fire system design or a repair of an existing system.
Related Articles
https://blog.dga.com/how-to-avoid-ecb-violations
https://blog.dga.com/should-business-security-systems-provider-have-soc-accreditation
https://blog.dga.com/smoke-detectors-duct-smoke-detectors-beam-detectors