Installing Electric Strikes and Electro-Magnetic Locks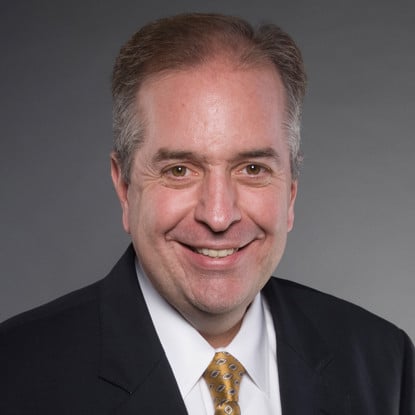 John Kolb is Director of Technical Sales at DGA Security, where he provides advanced technical support to DGA customers and evaluates emerging security technologies. A 43-year industry veteran, John holds a Certified Engineering Technologist (CET) status from NICET and a Certified Protection Professional (CPP) status from ASIS International, the gold standard certification for security management professionals.
If you're evaluating access control systems for your business, having the right type of door locking methods is crucial.
The two most common lock types used with modern access control systems are Electric Strikes and Electro-magnetic Locks (also called "mag locks"). As their names suggest, these locks require low-voltage electrical power to operate.
This article provides an overview of electric strikes and mag locks, and explains how they work with an access control system to unlock doors when an authorized credential is presented to the reader.
Electric Strikes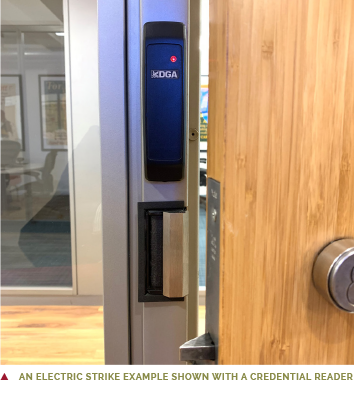 For doors that use hollow metal frames (as most metal and wooden doors do), we recommend an electric strike because it's secure, cost effective and relatively easy to install. An electric strike has a hinged catch that releases to open the door when the strike is activated by an authorized credential being presented to the reader.

An electric strike can be programmed to be fail-safe or fail-secure. Fail-safe, also referred to as fail-open, means the lock remains unlocked when power is removed. The opposite is fail secure, which keeps the door locked when power is removed. The local Authority Having Jurisdiction (AHJ) usually requires that electric strikes are programmed in a fail-safe mode in order to ensure people can exit the premises during an unexpected power outage or a fire alarm emergency. AHJ is the government organization, office or individual having the power to enforce and interpret the requirements of a fire code and approve equipment, materials, installations or procedures. For example, in New York City, the AHJ is the FDNY and the New York City Department of Buildings.

When exiting a door equipped with an electric strike, the door will simply open with a single action of turning the door handle.
Electro-magnetic locks ("mag locks")

For many building entry doors or glass doors, a mag lock is the most reliable option. A mag lock has two components: a powerful electromagnet and an armature (a metal plate). The electromagnet is installed on or in the door frame and the armature is attached to the door so they come in contact with each other when the door is closed. When electrified, the electromagnet keeps the door in a tight locked position. It's important to remember that when a mag lock's electromagnet loses power, the door will remain unlocked.

When installing a mag lock, you also need to install an electric exit device such as an egress button or egress motion sensor to allow people to exit. The exit device will temporarily interrupt the power to the electromagnet, allowing the door to unlock.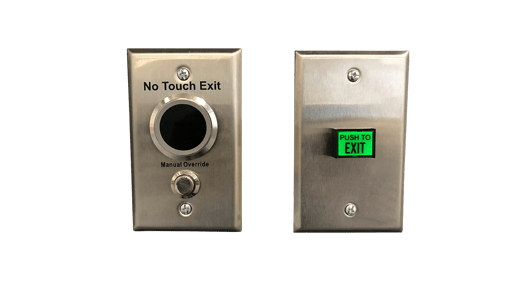 To ensure proper security, always install a manual lock in addition to the mag lock. Remember, during a power outage, a door with a mag lock will be unlocked until the power is restored.
How to install electric strikes and mag locks
Installing electric strikes or mag locks is a job best left to highly trained locksmiths. Reputable access control system providers won't install these locks themselves because installing these types of locks is a specialized trade that requires years of training. But they can certainly refer you to qualified local locksmiths if you need recommendations.
Read the related post: Access Control System: How to Choose the Right Credential Types

Related Articles
How a Network Outage Impacts Cloud-Based Access Control Systems
Should your business security systems provider have a SOC audit?
Access Control: What are the First Person In and DoorStat Features?