Emergency Control Function Interfaces allow fire alarm systems to communicate with other critical building systems during a fire emergency to ensure the safe evacuation of occupants. Think of Emergency Control Function Interfaces as switches that transmit signals from the Fire Alarm Control Panel (FACP), the "brain" of the fire alarm system, to other building systems.
When a fire is detected, the emergency control function interfaces transmit signals to control these critical building systems: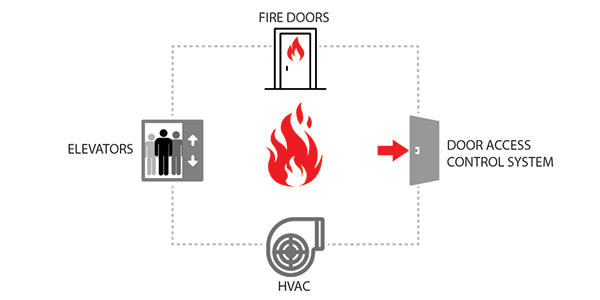 Elevators
Bring the elevators to the designated floor where emergency responders can easily access them to travel to the fire floor (referred to as Elevator Recall) and take the elevators out of service for the building occupants (referred to as Elevator Shunt Trip).

Fire Doors
Close the fire doors to limit the spread of fire.

Door Access Control System
Unlock all the doors to allow occupants to exit the building and allow emergency responders to enter easily.

HVAC
Prevent the HVAC system from circulating dangerous smoke to other parts of the building by shutting it down, closing fire and smoke dampers, and when possible, send the smoke outside via post-fire smoke purge system.
Want to learn more about commercial fire alarm systems? Download this FREE eBook that explains different fire system components.