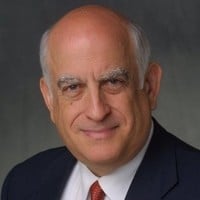 Stanley Oppenheim is the Founder and President of DGA Security. Mr. Oppenheim is a nationally known expert on the protection of high risk locations and has held numerous security industry leadership positions. He currently serves on the Board of Directors of The Monitoring Association, several Underwriters Laboratories (UL) advisory committees and the Alarm Industry Communications Committee. He held many roles at the Electronic Security Association (ESA) including National Vice President. Mr. Oppenheim has received many industry awards and recognitions, among them TMA Presidents award and in 2009, the Lott award, the TMA's highest honor.
24/7/365 customer care isn't enough. Customers expect to control their business security and fire alarm systems with a finger tap or two.
Today, 77% of American adults have a smartphone, and they can access over 2.1 million apps on Google Play and over 2 million apps on the Apple App Store1. Not surprisingly, more web browsing is conducted on mobile devices (63%) than on desktop computers (37%)2.
Thanks to high-speed broadband and supercomputing power in everyone's back pocket, how our customers engage with everything has changed dramatically. As Gen Z begins to enter the workforce (the oldest Gen Z is turning 22 this year), we have to rethink how we serve these up-and-coming business users—the first generation that has never lived without their smartphones.
One of the most interesting paradigm shifts I've witnessed over the past few years is how our customers define outstanding customer service. Since the founding of our company in 1969, we have prided ourselves in providing exceptional customer service through our 24/7 customer care team based in NYC.
Over the years, our customers' wants and needs have evolved. With ever fuller workloads and less time, they want an even more efficient method to interact with our team and manage the DGA systems protecting their various locations. We answered their call by creating highly customized online and mobile tools that give them more control over their business security systems.
The new Gen Z customers will want nothing less than the most efficient mobile tools as that's what they are used to. They will expect to view and control their business security and fire alarm systems with a finger tap or two. In fact, we anticipate Gen Z will expect all business tools to be so easy to use that they never feel the need to call us. We will always provide 24/7 live customer care, but we are also evolving our business and redefining our customer experience to meet these changing expectations.
Meet the new DGAConnect online portal and mobile app.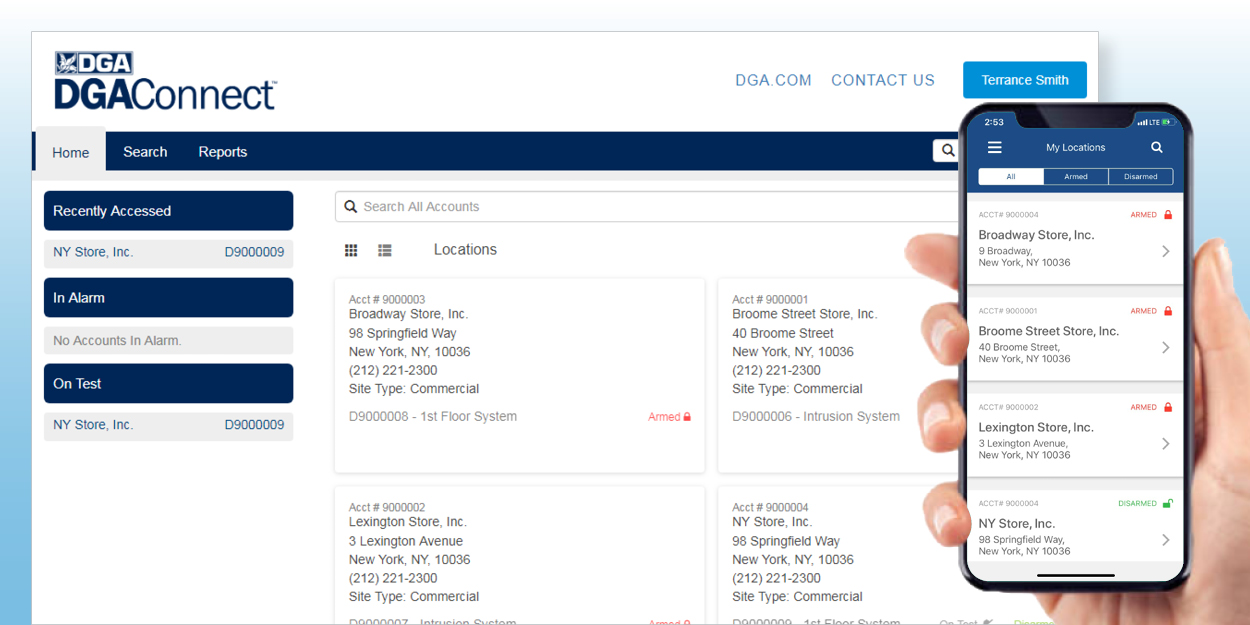 To that end, we recently released the new DGAConnect™ online portal and DGAConnect mobile app version 1.2 to give our customers an even easier, more streamlined way to manage their DGA intrusion and fire alarm systems. For example, our customers can view the system status of all of their DGA-secured locations, run system activity reports, manage contacts and Emergency Notification Lists, make temporary arming schedule changes, submit service requests and more.
Using the DGAPass™ online portal, our Access Control customers can add or delete cardholders, edit cardholder access levels, unlock doors temporarily and run cardholder activity reports — from wherever they are.
Lastly, the DGAOneVIEW® online portal and mobile app let our video surveillance customers keep their eyes on their business from anywhere in the world by displaying live video feed from all their locations or recorded video from the system's digital archives.
The feedback from our customers has been strong and we're thrilled to provide these new, improved online tools. We are not done with this journey of business transformation, and we'll be actively listening to our customers to get fresh ideas to help them save time and improve their business operations.
How are you preparing your business for this mobile-first generation? We look forward to hearing your thoughts and ideas.